Home

Readings
Readings
| | | |
| --- | --- | --- |
| C.J. Bond - Biology and the new physics | | |
Sunday, 27 December 2015
The book Biology and the new physics : a plea for a consistent philosophy of life" by C. J. Bond contains an edited version of the address given by Bond at the Centenary Meeting of the Leicester Literary and Philosophical Society on 7th October, 1935. It contains an analysis of the impact that the recent discoveries in quantum physics concerning the question of determinism in physics would have on a theoretical biology founded upon a basement of physics. In essence it is an argumentarium to keep old thoughts on free will and the role of God in the creation of the universe. He does so by means of a vision about how the intrinsic indeterminacy of matter -as postulated by quantum mechanics, and seen as the source of mental freedom- is constrained by an environment that overimposes a deterministic behaviour.

Biology and the new physics : a plea for a consistent philosophy of life
Bond, Charles John,
H. K. Lewis & co. ltd., London
64 pages
1936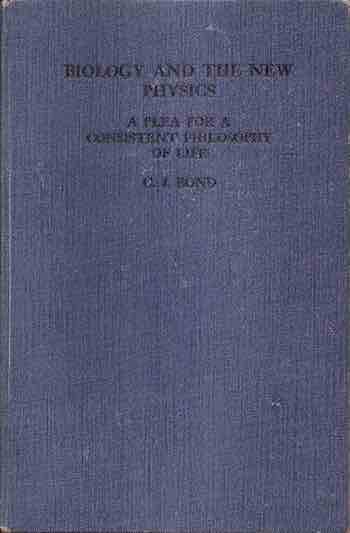 Value for time: 6
Main value: Transdisciplinarity; foundations; big themes
Last Updated ( Monday, 28 December 2015 )
| | | |
| --- | --- | --- |
| Robert Rosen - Anticipatory Systems | | |
Saturday, 25 January 2014
In this book Robert Rosen tries to elaborate on the mathematical foundations of theoretical biology, trying to offer a framework that puts inner modelling at the core of anticipatory behaviour that is, for him, one of the keystones of living systems. The book was conceived in the 70s and was published for the first time in 1985. The 2nd edition -this one- is from 2012, with some additional content from his followers and his daughter. The book tries to be mathematical -Rosen was a mathematician-biologist- using category theory and dynamical systems to describe the way living systems relate to their environment -using a modelling relation-and can anticipate in it. In essence it claims for a new foundation for mathematical biology that transcends dynamical systems theory -claimed to be inefficacious- offering mechanisms for addressing biological complexity to formalise what he later called relational biology.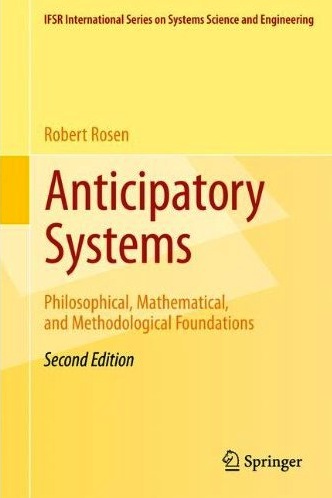 Anticipatory Systems; Philosophical, Mathematical, and Methodological Foundations, 2nd Ed.
Robert Rosen
Springer
472 pages
2012

Value for time: 7
Main value: Transdisciplinarity; abstraction
Last Updated ( Sunday, 21 December 2014 )
| | | |
| --- | --- | --- |
| Buckminster Fuller - Operating Manual for Spaceship Earth | | |
Saturday, 25 January 2014
This is the written, elaborated version of a conference that Fuller gave to the American Planners Association. In this book he analyzes the technological history of humanity to reach the conclusion that the knowledge gained and the technological power so obtained lets us -forces us- to properly manage the earth as a large, self-supporting spaceship. The work is valuable reading due to the yet valid analysis concerning the nature of weatlh and the proper political methods to deal with it.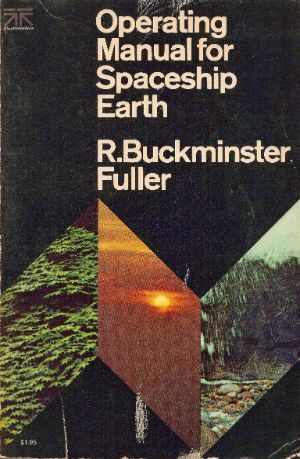 Operating Manual for Spaceship Earth
R. Buckminster Fuller
Simon and Schuster
144 pages
1969

Value for time: 6
Main value: Out-of-the-box
| | | |
| --- | --- | --- |
| von Bertalanffy - General System Theory | | |
Sunday, 07 May 2006
This is the revised edition of von Bertalanffy recollection of thoughts on General Systems Theory. This book gathers a collection of previous publications on the topic of GST. These publications address the potentiality of such a theory in science at large but, specifically, it is more focused on the role it can play in the biological sciences.

General Systems Theory Revised Edition
Foundations, Development, Applications
Lodwig von Bertalanffy
George Braziller
295 pages
1969
ISBN 0-8076-0453-4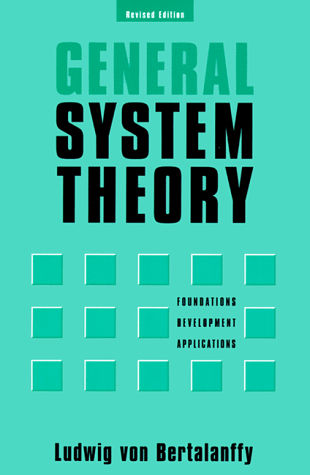 The book describes the motivations and main topics of GST and addresses the role it can play in a collection of domains as a general scaffolding for unification and holism.
This is a very readable and interesting book that must be put in the historical perspective to understand its motivations and the reasons behind its limited impact beyond the small circles of biological cybernetics.
The book does not provide a GST -at least understood in the engineering sense of "theory"- but just discuss, repetitively, some of the core topics of such a theory. While the book includes concrete mathematical examples of systems models, they are limited to small biological phenomena. Precision is lacking at the level of the high abstractions that would constitute the basement of a GST.
The book shall be read for its motivational value and for setting an opening into a roadmap towards a true GST.
Value for time: 7
Main value: Research, Motivational
Last Updated ( Saturday, 20 October 2012 )
Read more...
| | | |
| --- | --- | --- |
| Weinberg - An Introduction to General Systems Theory | | |
Friday, 13 January 2012
Weinberg offers an introduction to the general systems way of thinking. It is more a manual on "how to think" than an introduction to the theoretical analysis of general systems. It offers, however, a collection of theoretical priciples that may be very useful in the formulation of theories about systems.

The book is indeed an epistemic manual: how to create mental models about systems based on general considerations about systemhood and our knowledge. This may prove very useful in avoiding traps in system modeling.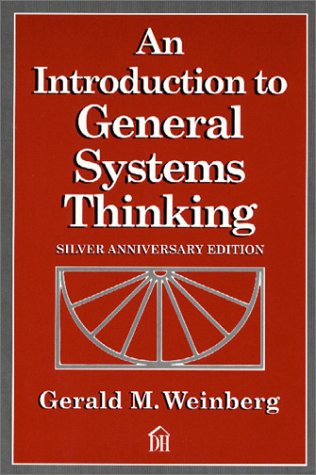 An Introduction to General Systems Theory
Silver Anniversary Edition
Gerald M. Weinberg
Dorset House
279 pages
1975-2001
ISBN 0932633498


Value for time: 7
Main value: Get insights on how to think about specifici systems from a general perspective.
Last Updated ( Sunday, 20 May 2012 )
<< Start
< Prev
1
2
Next >
End >>
Results 1 - 9 of 16